The Fall season has arrived, and despite the sudden temperature changes that sometimes bring us back to the summer, we can not curb our desire to start wearing winter clothes. Trenches, coats, sweaters are waiting for us. So let's see which trends we must follow this fall / winter to be cool at any times.
LEATHER
The leather is a must have during all the seasons. No matter which shape they have,  the leather garments will never go out of style and make your look more personal. Clothes, jackets, leggins, who does not have at least one of these clothing in the wardrobe? Then if you dive with colors like amaranth, red, ocher, camel, and so on, the matches become even cooler.
SPORTY
The most groundbreaking trend loved by designers and people is the sporty one. More and more fashion designers take inspirations from the sporty world, not only for the design of the garments, but also for the fabrics, for example the technical materials.  The oversize continues to dominate the scene, and it's not uncommon to see sporty items combined with other stylish ones. The society is changing , and our habits too: in the first place we take care of our comfort. Let's all say, you can be trendy even dressing up with a sporty trousers and a sweatshirt. So it is  just all about attitude.
PVC
Another trend in the latest international runways is the use of PVC. Transparent and generally used as "overcoats", pvc garments are combined with colorful or fancy fabrics, creating interesting contrasts. Along the trendy side, let's not forget that this material is also useful because of its waterproof properties. Good for facing the upcoming rainfall.
CAPES
Besides the coats, this year the capes are the protagonists. Long or short, squared or soft designing, the autumn / winter season sees the great return of the mantles. Easy to use for a casual and elegant style, the cape has become a good alternative to the coat to change the look without pulling back on unique style.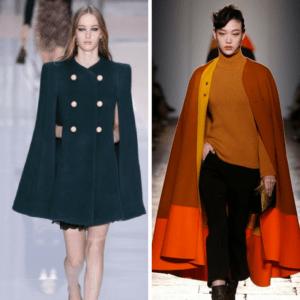 Now, find the trend that best represents you and be as cool as possible.